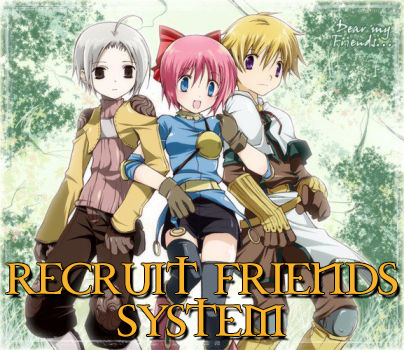 ENG
: We have implemented a new system of invitations for your friends (at least 2) in the Paramarket of Prontera, which in addition to helping the population of our server, will allow you to receive a

Special Present
containing a random item (including cards).
The requirements and instructions to be awarded are as follows:
Player A: Old player (must invite at least 2 friends, players B and C)
Players B and C: New comers (after Player A's invitation)
When player B and player C connect, they must go to the Paramarket and talk to the NPC "Recruit Friends" and will have to register choosing the option "- My Friend Called me!".
At this point they will have to enter the exact nickname of their friend who invited them and then complete the registration process by choosing the next option "Complete the process".
Players B and C will receive a Light Red Potion Box as a welcome gift from the Staff and they will be asked to re-login to start the counting system.
After re-login, a timer will start working on players B and C (separately) and will work until they complete 1 hour of actual play per day for up to 2 days, but WARNING... if during this period of game will be absent for AFK, they will go in vending or they will remain stopped to chat for more than 5 minutes, the timer will reset again and after receiving a warning message for the stop, they will have to reload to restart the timer again.
Before awarding the prize the NPC will check continuously to see if players B and C have met these requirements:

have been active for at least 2 days
played for at least 1 hour a day without interruptions longer than 5 minutes
never had the same IP between all 3 players (A, B and C)

If you meet all these requirements, the recruiter friend (player A) will be able to collect his prize from the NPC "Recruit Friends Rewarder" in the Paramarket.
ENJOY!

****************************************
ITA
: Abbiamo implementato un nuovo sistema di inviti per i vostri amici (almeno 2) nel Paramarket di Prontera, il quale oltre ad aiutare il popolamento del nostro server, vi permetterà di ricevere uno

Special Present
contenente un random item (carte comprese).
I requisiti e le istruzioni per poter essere premiati sono i seguenti:
Giocatore A: Vecchio giocatore (dovrà invitare almeno 2 amici, giocatori B e C)
Giocatori B e C: Nuovi arrivati (dopo l'invito del giocatore A)
Quando il giocatore B ed il giocatore C si collegheranno, dovranno recarsi nel Paramarket e parlare con l'NPC "Recruit Friends" e dovranno registrarsi scegliendo l'opzione "- My Friend Called me!".
A questo punto dovranno inserire il nickname esatto del proprio amico che li ha invitati e quindi completare il processo di registrazione scegliendo l'opzione successiva "Complete the process".
I giocatori B e C riceveranno una Light Red Potion Box come onaggio di benvenuto dallo Staff e gli verrà chiesto loro di riloggare per far partire il sistema di conteggio.
Dopo aver riloggato, un timer inizierà a lavorare sui giocatori B e C (separatamente) e funzionerà fino a che non completeranno 1 ora di gioco effettivo al giorno per un massimo di 2 giorni, ma ATTENZIONE... se durante l'ora di gioco si assenteranno per AFK, andranno in vending oppure rimarranno fermi a chattare per più di 5 minuti, il timer si azzererà di nuovo e dopo aver ricevuto un messaggio di avviso per l'avvenuto stop, dovranno riloggare di nuovo per poter riavviare il timer.
Prima di assegnare il premio l'NPC farà un controllo costante per vedere se i giocatori B e C abbiano coperto questi requisiti:

sono stati attivi in gioco per almeno 2 giorni
hanno giocato per almeno 1 ora al giorno senza interruzioni più lunghe di 5 minuti
non abbiano mai avuto lo stesso IP tra tutti e 3 i giocatori (A,B e C)

Se soddisfano tutti questi requisiti, l'amico reclutatore (giocatore A) potrà ritirare il proprio premio dall'npc "Recruit Friends Rewarder" nel Paramarket.
ENJOY!