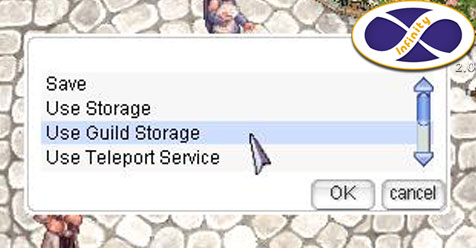 ENG
: We communicate to the whole community that we have activated free access to guild storage in every Kafra. The guild storage is activated through the appropriate new guild skill in which each point spent increases by 100 slots the maximum capacity up to the maximum level of 5 (500 slots).
It is important to know that this storage can only be used by members of a guild, to which their Guild Leader will have to give access permissions. You can also use the guild storage one person at a time, so if you can not use it you can try again after a few minutes, however a warning message will appear in game.
ITA
: Comunichiamo a tutta la community che abbiamo attivato l'accesso gratuito allo storage di gilda in ogni Kafra. Lo storage di gilda è attivabile tramite l'apposita nuova skill di gilda nella quale ogni punto speso aumenterà di 100 slots la capienza massima fino al livello massimo di 5 (500 slots).
E' importante sapere che questo storage può essere utilizzato solo dai membri di una gilda, ai quali il loro Guild Leader dovrà dare i permessi di accesso inoltre è possibile utilizzare lo storage di gilda una persona alla volta, quindi se non riuscirete ad utilizzarlo potrete riprovare dopo qualche minuto, comunque un messaggio di avviso vi apparirà in gioco.