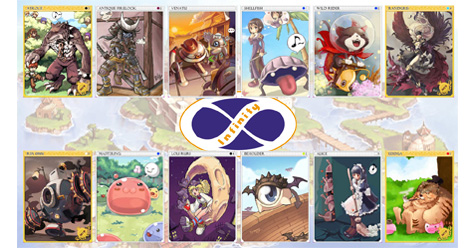 ENG
: We inform you of a small but important update regarding the npc "
Card Trader
" (coordinates paramk,75,34) that exchanges your unused cards with points that can be spent by the same npc for the purchase of different types of "
Card Album
" and therefore allows you to recycle the most useless cards by trying your luck.
The update specifically concerns the number of cards exchanged by this npc, which passes from the current 700 cards (from ID4000 to ID4700) to over 4700 cards (from ID27000 to ID31023) accepted, including all new cards of the re-newal version.
ITA
: Avvisiamo di un piccolo ma importante aggiornamento riguardo l'npc "
Card Trader
" (coordinate paramk,75,34) che scambia le vostre carte non utilizzate con punti che possono essere spesi dallo stessoo npc per l'acquisto di diversi tipi di "
Card Album
" e quindi vi permette di riciclare le carte più inutili tentando la fortuna.
L'aggiornamento nello specifico riguarda il numero di carte scambiabili da questo npc, che passa dalle attuali 700 carte (da ID4000 a ID4700) ad oltre 4700 carte (da ID27000 a ID31023) accettate, comprendendo tutte le nuove carte della versione re-newal.